Patrick Cowley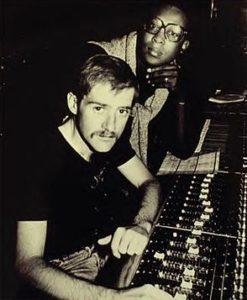 Patrick Joseph Cowley was a Disco and Hi-NRG dance music composer and recording artist. He recorded in a similar style to Giorgio Moroder, and is often credited with pioneering electronic dance music.
Working at the City Disco, as a light technician, he met Sylvester (originally of the Cockettes gay Theatre group) who was there performing. They began to collaborate, and Cowley's aggressive synthesizer style became associated with Sylvester. Their club-dancing fan base responded enthusiastically to hits like "You Make Me Feel (Mighty Real)", "Dance (Disco Heat)", and their most successful single, "Do You Wanna Funk".
Cowley's own hits included "Menergy" in 1981, a frank celebration of the gay club sex scene, and "Megatron Man". In 1982, Patrick Cowley became the DJ at the "Menergy" parties at The EndUp in San Francisco. He also wrote and produced the dance single "Right on Target" for San Francisco artist Paul Parker, which reached #1 on the Hot Dance Music/Club Play chart. Cowley also did a 15+ minute long remix of Donna Summer's "I Feel Love", which is now a collector's item. His final album, Mind Warp, was composed as he felt the increasing effects of HIV infection, and its songs reflect his increasing detachment from conventional reality as the disease progressed. Cowley's released work to-date includes six LP full length albums (ranging from Hi-NRG to trance inducing long-form ambient/krautrock synth exploration pieces) and a dozen singles and EPs. Groups including the Pet Shop Boys and New Order cite Cowley's style as a major influence.
Patrick died from complications of AIDS on November 12, 1982, an early victim of the disease.
Read here why he's considered one of dance music's most important producers.